illimity introduces new checking accounts with interest rates of up to 4.5%
illimity bankthe digital bank of unlimited grouphas opened two new fee-based checking accounts for the first time with interest on sight deposits of 2.5%. This is a very important innovation for the private customers of the digital bank, who so far have only been able to benefit from the interest rate increase through the interest on fixed-term deposit accounts.
The benefits for account holders
In particular, customers who open the new premium current account by June 29, 2023 have the option of claiming interest on sight deposits at a gross interest rate of 2.5% until December 31, 2024 and not paying the stamp duty. The premium account also offers access to deposit accounts with a rebate of 4.75%, 4.50% and 4.30% on deposits over 60, 48 and 36 months respectively.
The premium account also includes the ability to apply for a free credit card for a monthly fee of 7 euros, make unlimited withdrawals and use a priority assistance service and all of illimity's tools and solutions at no additional cost.
It has also been introduced for new customers who want to take advantage of a checking account at zero cost the classic account, which guarantees access to fixed deposit accounts with interest up to 4.5%, for a fee of 3 euros per month, which becomes free in the event of a salary or pension credit or activation of non-unlockable deposits of at least 5,000 euros . The rates for deposits accessible through the classic account at 60, 48 and 36 months are 4.50%, 4% and 4% on the non-release line and 3.50%, 3.25% and 3% on the reversible line.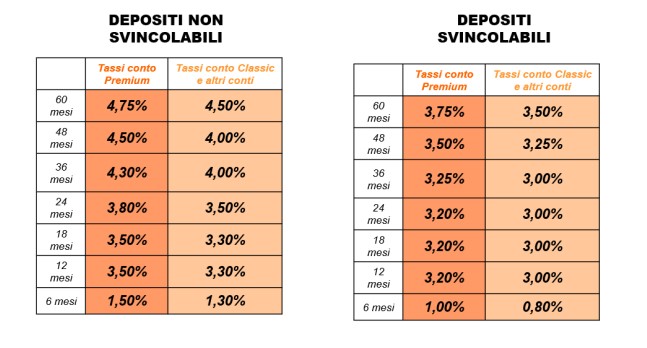 Gianmarco Carriol | Wall Street Italy
The new illimity offer aims to offer high-quality services and safe, flexible and guaranteed savings instruments to private customers who are becoming increasingly demanding. The digital bank continues its development course and already has deposits of over 2.5 billion euros, with a loyal and steadily growing customer base.
Premium or classic accounts can be opened through a 100% digital process that can be completed in four easy steps and in a few minutes thanks to a user experience of the latest generation and a team of experts available for any assistance. Filipe Texeiraillimity's Chief Information Officer said:
"We are pleased to announce, for the first time since the launch of illimitybank.com, free deposit rewards at a top rate of 2.50%. With this, we wanted to give customers the opportunity to benefit from the current phase of interest rate increases by opting for safe savings solutions with safe and high returns. At the same time, we will continue to develop the services offered by the platform to respond to and anticipate the needs of increasingly demanding retail clients who use illimity bank as their bank of reference."
Who is Illimity?
illimity Bank is an Italian high-tech bank founded and managed by Konrad Passer. It is the first open domestic Italian bank and has constantly integrated its offer, also through partnerships with key players in the financial and non-financial sectors. It will evolve in the coming months, further expanding its range of services and solutions to meet the needs of an increasingly demanding clientele.